Ulrike Goldschmid-Grant for Research Work at the Tropical Field Station La Gamba, Costa Rica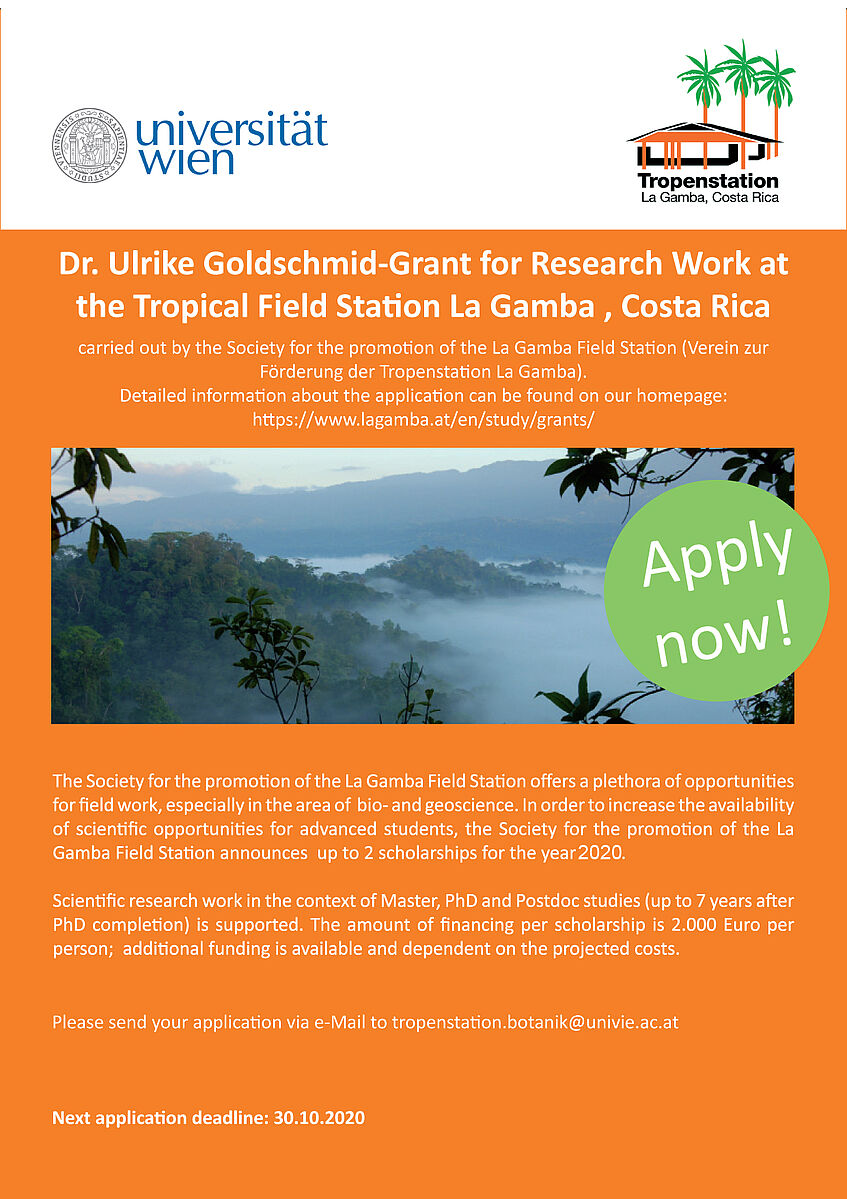 Ulrike Goldschmid-Grant for Research Work at the Tropical Field Station La Gamba, Costa Rica
The Society for the promotion of the La Gamba Field Station offers a plethora of opportunities for field work, especially in the area of bio- and geoscience. In order to increase the availability of scientific opportunities for advanced students, the Society for the promotion of the La Gamba Field Station announces up to 2 scholarships for the year 2020.

Scientific research work in the context of Master, PhD and Postdoc studies (up to 7 years after PhD completion) is supported. The amount of financing per scholarship is 2.000 Euro per person; additional funding is available and dependent on the projected costs.

Next application deadline: 30.10.2020
Application documents

Detailed description of the research project (maximum 4 A4 pages, questions, working hypotheses, methodology, schedule, budget plan; plus bibliography), in English
Curriculum vitae, if applicable publication list
Proof of acceptance of the master's or doctoral theses by the study program management or competent university body;
Letter of recommendation (informal) from the scientific supervisor, signed in sealed envelope. The letter of recommendation should in particular address the importance of the planned stay in La Gamba for the research project.
Bachelor students are excluded from the promotion.
Please send your application via e-Mail to tropenstation.botanik@univie.ac.at
Allocation
The board forms its decision on scholarships based on competitive criteria upon proposal by the scientific committee. The scientific quality and originality of a proposal and the connection to the Tropical Field Station La Gamba are deciding factors. Should the need arise, we will consult suitable scientific professionals to help us with the evaluation of the exposes.
Ruling
The applicants will be informed in writing immediately after a decision has been reached. In the case that you have been selected for a scholarship you will receive a declaration of acceptance. Please fill in the declaration and send it to the to the association. The formal fulfillment of the requisite requirements precludes any form of legal entitlement to financial support. The allocation of scholarships is based on competitive standards and in accordance with existing financial means. Any recourse to courts of law is excluded. Only one scholarship will be awarded per person; this person is then exempt from any further future participation.
Payout
The scholarship is payed out upon receipt of the declaration of acceptance.
Reports
It is mandatory to send a short progress report (ca. 2 pages) to the club no later than two months after the conclusion of your visit to La Gamba. Scholarship holders are further obliged to send the a association a digital copy of their master's thesis or dissertation (in pdf format). Should scientific publications arise from funded work at the Tropical Field Station La Gamba, these are to be sent o the club as well (preferably in digital form).